First Baptist Church of Douglass
|
home


Youth Minister

Our Youth Minister is Brother Randy Arnold.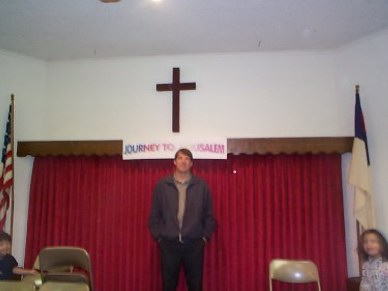 Brother Randy standing in front of the Baptistry
Brother Randy has been the Youth Director for several years. He is also a teacher at TJR Middle School in Nacogdoches. Randy and his wife Irene have three children, Alyssa, Andrew, and Avery.
Randy went to college at Stephen F. Austin State University and majored in Kinesiology and Special Education. While at SFA he was actively involved with the ministry Campus Crusade For Christ.
Brother Randy's best experiences in his ministry have come from the relationships that he has built with others. He cherishes these relationships, and he loves being around people.
Most of Randy's childhood memories come from Michigan. This is where his grandfather lived. His grandparents had a lake and he loved going fishing and spending time with his grandparents in Michigan.
The following is an excerpt from an interview with Brother Randy by Jonathan Yates. "I asked Brother Randy about how he was led to Christ. He said that he had gone to church all of his life, but never did hear the clear message of Jesus Christ. Randy stopped for a second. He said that the fact that he had gone to church all of his life and never heard the gospel truth bothered him. How many more people are out there like Randy, who have always gone to church but never heard about Jesus? Randy was taking a night class at a junior college when he ran out of gas at a Campus Crusade meeting place. There, two Christians led him through the plan of salvation, and Randy accepted Christ."
Most recently, Brother Randy has accepted the call to preach. He is currently looking for a seminary to attend. As soon as he has completed seminary, Brother Randy will be preaching all the time. For the present, he, as well as other men of the church, fills the pulpit when Brother Pete is out.