First Baptist Church of Douglass
|
home


Pastor

Our Pastor is Brother Pete McGuire.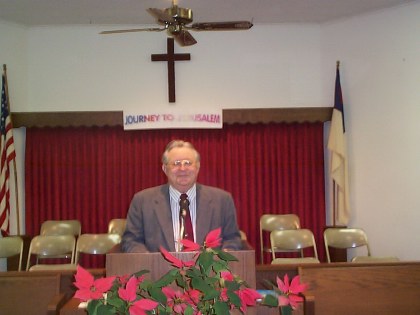 Brother Pete standing behind the pulpit
Brother Pete has accomplished many things in his lifetime. He has traveled all around the world preaching the gospel to everyone that he meets.
Brother Pete's full name is Clarence Thomas McGuire. He got the nickname "Pete" through childhood experiences. Brother Pete's childhood was in the Depression days. He was born in 1929, into a loving Christian family. Brother Pete had three other brothers. He said that they had a very simple life, they had cows, chickens, and a big garden. He also said that his parents were very simple people. While in high school, Brother Pete got a job at a local grocery store. This was rare back then. He said that he had to work before he went to school, and he had to work on Saturday and Sunday mornings. After a while, he became convicted of working on Sunday mornings and told his boss that he was not going to work on Sunday mornings. He expected to lose his job, but to his surprise, his boss let him off Sunday mornings .
Brother Pete went to college at East Texas Baptist University in Marshall, Texas. While working his way through college, Brother Pete majored in Bible studies and History. Also while in college, Brother Pete met Betty Fortune - who became his wife on August 4th, 1950.
After college, Brother Pete pastored at Shady Grove. While at Shady Grove, he was bivocational. He worked at a grocery store. After pastoring at Shady Grove, he came to Douglass. Here they paid him enough that he did not have to get another job to help support his family. During this time, he began memorizing Scriptures. Today he can quote Scriptures right and left.
Brother Pete has been in the ministry for over 50 years. He has pastored in churches for about 33 years and has been in full time evangelism for over 20 years. Although he is our current pastor, it is not the first time that he has pastored at Douglass. In the early 50's, Brother Pete was pastor of First Baptist Douglass. He said that it was a lot different back then. Douglass was his first full time church.
Throughout his ministry, he has had some very unique experiences. He has led 31 Bible study tours to Israel and other Bible lands. At one time he was interim pastor in England, which he thoroughly enjoyed. He also took a trip to Ireland, since that is where the McGuire family originated from. He learned that the McGuires in Ireland were Protestant, even though Ireland was a Catholic country. He also learned that there was a castle that the McGuire family owned back centuries ago.
Brother Pete is active in several professional associations. He is a member of the SBC, (Southern Baptist Convention), and is on the Evangelism Committee in the Shelby/Doches Association. His wife Betty McGuire is on the Missionary Committe. Brother Pete and Mrs. McGuire have five children. Their sons are John Nathan, James, and Jerry. Their daughters are Mary and Martha. John Nathan is a pastor in Garrison, TX.
Brother Pete has been in the ministry since he was 18 years old. As a personal message, he said that he would like to "impart his own soul" into his work here at Douglass. He gets this statement from the last line of 1 Thessalonians 2:8, "we were willing to have imparted unto you, not the gospel of God only, but also our own souls, because ye were dear unto us."
Throughout Brother Pete's life, I think that you can say that the Lord Provided, and will continue to provide. As long as we put our faith in the Lord, He will always pull us through.